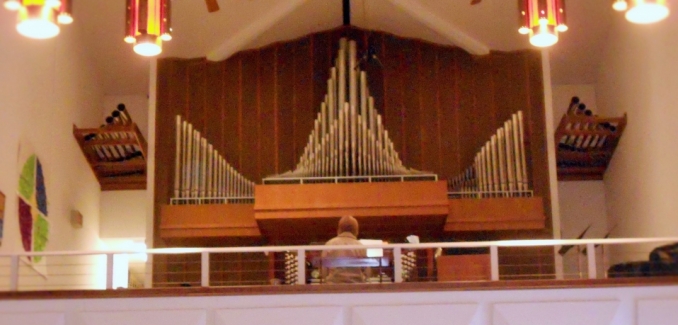 Pacific Hills Lutheran Church is a place where traditional worship can be found each Sunday morning at 8am and 10:30am as well as Wednesdays at 9:30am.  In traditional Lutheran worship the service is focused on God: He forgives all my sins, freeing me to thank and praise, serve and obey Him.  The liturgies used are based on Holy Scripture with portions sung and other parts spoken.  Scripture readings for the day determine the theme for the day.  Hymns and sung Psalmody can be found in our hymnal, Lutheran Service Book, the official hymnal of the Lutheran Church–Missouri Synod.  The last Sunday of many months a separate liturgy, "Given for Me" by Charles Ore and Jaroslav Vajda, is used.
The vibrant hymn singing is led by the pipe organ in the rear balcony and by the Sanctuary Choir September through May.  There are some occasions when the grand piano may necessarily be used.
The Sanctuary Choir sings a variety of music that dates through all the ages and rehearses on Sunday mornings from 9:15-10:15am.  This choir sings each Sunday from the 2nd Sunday of September through Trinity Sunday.  All are welcome to join–the only requirement is being able to navigate the stairs to the balcony!
Our young children (up through 5th grade) rehearse and learn about Lutheran worship on Wednesday evenings 6;30-7:30pm September through April and sing when the music is prepared.
Cantors, soloists who sing various parts of our service that are often assigned to the choir, are a vital part of our music ministry.  These are volunteers who give freely of time and talent in thanksgiving for the gift of music given them by their Creator.
Pacific Hills hosts the North Omaha Circuit's annual Reformation Festival the last Sunday in October at 2:30pm.  In addition to the Sanctuary Choir and organ, a brass quartet and timpanist are added to the festival.
The third Sunday in Advent is our service of Advent Lessons and Carols, when the service consists of readings, prayers, and music.  Special musical guests are Craig and Mary Bircher with trumpet and harp.
Courtyard Jazz is open to all in our south courtyard (unless inclement weather occurs, moving all inside) and happens the third Sunday evening at 7pm during June, July, and August.  It's a time for great music (for free!) performed by musicians of the area in a casual setting on your own lawn chairs or blankets.