Committee members take turns as "chair of the month." It is the duty of the chair to mail get well, thinking of you, and sympathy, baptism, confirmation, and wedding, etc. cards to the appropriate people. We also mail the Sunday bulletin to homebound and members in nursing homes.
Four times a year we deliver or mail Portals of Prayer booklets to homebound. The first year after a loved one has died, "Journeying Through Grief" booklets are mailed to the family. We also provide Advent and Lenten Meditation booklets for shut-ins and other members of our congregation. We acknowledge out of town visitors who attend our services with a card.
Other activities of our Committee include: Home Birthday Parties, May Baskets, Reformation Bread, Bags of Cookies, Fellowship Coffees following the afternoon Advent and Lenten services. We also sell Care Cards from a rack in the library. Cards and notes are sent to our members in the Armed Services.
We're always looking for volunteers to provide transportation for members needing rides to Church services and other activities.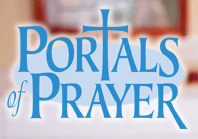 These short meditations cover a variety of themes with each one connecting a common topic with God's presence and power as revealed in His Word. For those who are mature in their faith, these daily devotions encourage readers in daily meditation on God's Word. This collection provides devotional materials for Lutherans and other Christians that remind them of the strength, freedom, and joy we have in our Savior, Jesus Christ