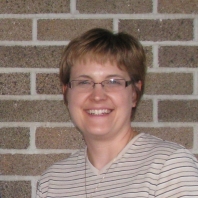 Kay is the newest addition to the called staff at Pacific Hills. She has been the director and teacher for Lamb of God Preschool since 2011. She is a 1999 graduate of Concordia University in Seward, NE with a bachelor's degree in early childhood education. She and her husband Matt moved to St. Louis in 1999, where they lived for 11 years. While there Kay taught preschool, first, and second grades in Lutheran schools. She also worked for the Stephen Ministries organization for a number of years. She completed her master's degree in early childhood education by distance from Concordia University in Chicago in 2003 (only setting foot on campus to get her diploma at graduation!).
Kay grew up on a cattle ranch in the Sandhills of Nebraska, and her whole family lives in the state, so after years of being away from family, Kay and Matt decided to move "back home." In May of 2013 Kay and Matt had baby Nathan, a blessing who keeps them very busy.
In her free time (which is in short supply) Kay enjoys cooking, reading, sewing, running, playing the piano, and traveling.
"Being in a Lutheran school is the best place in the world. Every day I get to tell children about Jesus and experience His world through their eyes."