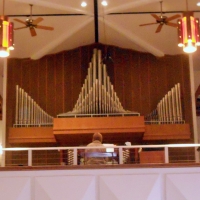 Some might say, "Minister of Music (sometimes 'Princess of the Pipes') can't be a real job! What is your other job?" To which Barb only responds, "This is my real job, but I don't consider it work because I love what I do!"
That hadn't always been the case. Barb wanted to try other careers, but the good Lord had to be very direct in order for her to pay attention. When she wanted to be a hairdresser, she became allergic to human hair; when she wanted to work in an office, she was allergic to fumes and bothered by the noise. She truly believes she is in this place because this is where the Lord put her.
Contrary to what one may think, this is not a "one-day-a-week gig." This is a daily event, planning services, practicing organ and piano, preparing music for choir, rehearsing with instrumentalists and vocalists, seeking out new music for each new season of the church year, meeting with couples planning wedding services, teaching little ones the songs and liturgies of the church, grieving with those who have lost loved ones, meeting with the Music and Worship Committee and working with the staff to carry out the mission given, most of which gets done behind the scenes.
Most importantly, the Minister of Music leads the church's song to teach the truths of Scripture, to inspire praise and thanksgiving for all the blessings of life, to bring peace and hope during life's turmoil, to motivate action to carry out mission and outreach, and to celebrate every Sunday with saints and sinners through Word and Sacrament from 'the other pulpit' – the choir loft. Music, the universal language, is the marvelous vehicle that God has given to be used to His glory. Praise, honor and glory through songs sung since Old Testament times through the present age are due His Name!