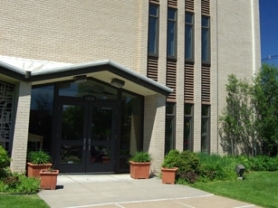 Monday-Friday: 8am-4:30pm*
* The office is sometimes closed over the noon hour.  Please call first if you plan to visit over the noon hour.
Courtyard Jazz
The last concert in the 2018 Courtyard Jazz Series will be Sunday, August 12th at 7:00 pm. The one-hour concert is free and will be held in the Moorhead Courtyard adjacent to the south parking lot entered from 90th. We thank our donors who have underwritten the concert series to allow it to be free to our members and the public.
This concert features the Danny Mattran Quartet. Bring your lawn chairs or blankets to join this final installment of the summer jazz series at Pacific Hills.
Welcome to
Pacific Hills Lutheran
in Omaha!
Since our founding in 1955, Pacific Hills has preached Christ, and Him crucified for salvation (1 Corinthians 1:23), one constant in a world of change and uncertainty.  This constant of Christ, our Rock, is reflected in the historic liturgy and music of our worship, but is most clearly given in the weekly celebration of the Eucharist (the Lord's Supper).
Located at 90th and Pacific at the near-center of the Omaha metro area, we welcome guests and members alike from all parts of the metro–and all parts of life!
Come see how God loves and serves you, and become a part of His work in the many ministries of love and service available through Pacific Hills!
Courtyard Cookout
Pacific Hills is extending an invitation to all members of North Circuit congregations to attend a cookout in the Moorhead Courtyard Sunday, August 12. The evening begins with a cookout of burgers, hot dogs and sides from 5:30 pm to 7 pm. A freewill offering will be taken in support of Pacific Hills' Children, Youth and Family ministry. All are welcome. Then, stay for Courtyard Jazz at 7 pm, featuring the Danny Mattran Quartet. There is no admission fee.
Events for week of August 12, 2018
This Week Navigation
August 12 @ 8:00 am
-
9:00 am
August 15 @ 9:30 am
-
10:00 am
August 15 @ 10:00 am
-
10:30 am